OUR STORY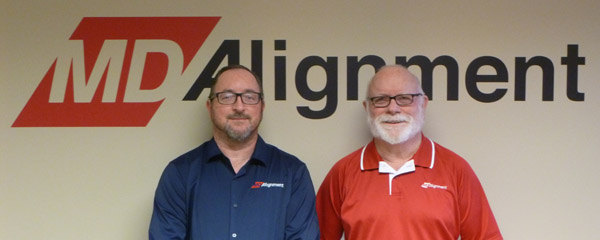 Mike Beckett is the President and Founder of M.D. Alignment Services, Inc. He has 50 years of experience in the truck industry, with expertise in heavy-duty vehicle alignment. In 1988, the company started as a mobile alignment business and transformed over the years as experience, ideas and partnerships developed. First writing "Truck Wheel Alignment A Common Man's Guide", then developing our QCT Truck Wheel Alignment System with Jack Hobson, owner of Tauri Engineering.
Our training seminars and consulting extends to fleets, repair operations, and truck related industry manufacturers around the world. Mike Beckett has been a consultant and trainer for many well-known companies, including Bridgestone, Goodyear, Continental, Freightliner, Dana, Volvo, Peterbilt, International, and others. Our company has published three books, an array of training videos, as well as the Rolling Toe Podcast on the Audio Road Network.
M.D. Alignment has over 3,000 equipment customers worldwide and many thousands more alignment and book customers. We have a network of over 120 alignment providers with many technicians trained by Mike or Kevin Beckett personally. They have trained hundreds of alignment technicians over the last 20 years to fix tire wear and handling problems with the goal of providing the best possible outcome for vehicle drivers and tires.
Mike and Kevin Beckett are guests on a weekly XM satellite radio show, Trucking Business and Beyond, hosted by Kevin Rutherford. They answer alignment and tire wear questions and provide the most up-to-the minute advice available. They are constantly acquiring relevant information through the mobile alignment operation that Kevin operates, as well as through the interactive training classes and ongoing educational seminars that Mike and Kevin conduct.
Kevin Beckett manages our mobile alignment operation, and he has aligned thousands of vehicles and has evaluated thousands of tire wear and handling issues for both individual truck owners and companies across the continent.
M.D. Alignment provides this assembly of knowledge, technology and skill to every customer on demand with customer support that doesn't use an automated attendant and is always free of charge. We look forward to helping your trucks and tires ride smooth and straight down the road for the next 50 years!